Fall & Spring Hours of Operation
Weekdays:

Hours are:
6:50 am - 7 pm
Weekday nights:
7 pm - 10:00 pm (Perimeter Routes)
For after hours transportation to request a ride call 348-RIDE or go to 348-Ride.ua.edu.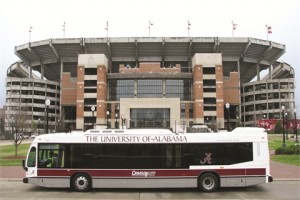 Winter Break Schedule
Crimson Ride will operate regular bus service until 12/13/13.
Limited services begin 12/16-20/13 Summer Schedule 7am to 6pm.
No apartment shuttles will operate after 12/13/13.
348-Ride operates 6pm until 7am.  Regular bus service is scheduled to
resume 1/6/14.  348-Ride will operate 24hrs on Jan. 2-3, 2014.

Crimson Ride and Tuscaloosa Transit Partner to Offer Free Route to U.A.
Tuscaloosa Transit, in partnership with Crimson Ride, has a route from the Downtown Intermodal Facility (601 23rd Ave.) to the UA campus and back. This bus will run a complete route each half hour, starting at 5 am until 6 pm Monday through Friday throughout the year (except on holidays). UA students, faculty and staff can park free of charge at the downtown IMF and can ride the route free of charge with a U.A. Action Card. Click here for route details.
Downtown Express Route
Thursday-Saturday 9pm-2am, running until 3am on Friday night/Saturday mornings! Click here
To View Annual Ridership Report click here